Now featuring the popular book of short stories
by Don Calderwood
and published by VBW Publishing...
NOTE: This website is gluten-free, contains no MSG, no sulfites, AND contains only non-GMO ingredients, etc. So, relax and look around...
LIFE
AND HOW IT GETS THAT WAY
for more info click either book image
for a description, specs, reader comments on the book,
contents, titles, new interview with the author, author background, etc.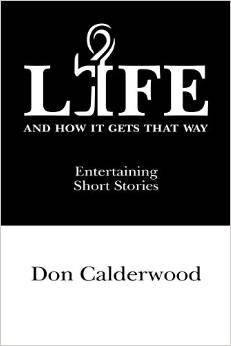 Purchase the book
at the low price direct from the publisher
ONLY $13.95!
(click the VBW logo)

Purchase with credit cards or bank cards:
American Express, VISA, Mastercard, Bank cards,

Already read or bought the book?
THANK YOU! Please feel free to...
- Make a comment to the author/ask a question
- Write a quick, brief review of the book
- Tell your friends and others about the book and
refer your friends and others to this site
- Link to this site if you have a website, Facebook, etc...
For all: Please bookmark this site now/Add to Favorites (Control + D in many)
Don't forget: You can purchase the book as a gift
for a friend or relative at any time, now or later...
at the low price direct from the publisher (click the VBW logo above)
Scroll down for navigation to other pages or go... [ Back to page top ]